Pick Boards Supplier in Dallas, Texas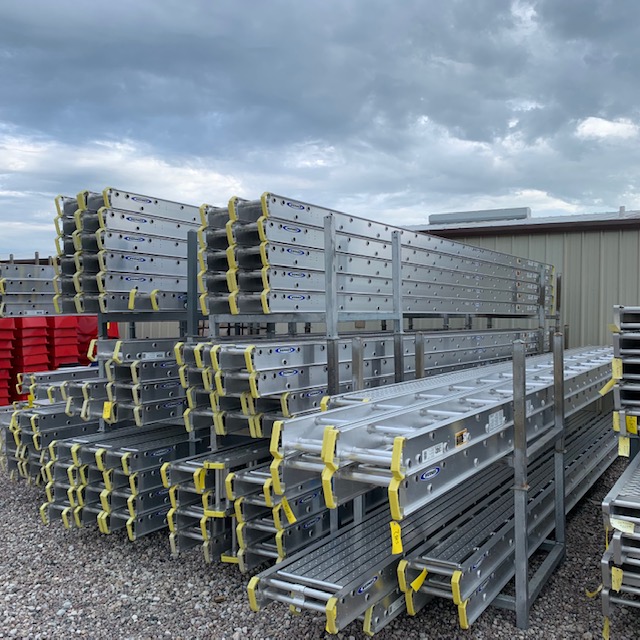 At Dallas Ladder, we have a very large inventory of Werner Pick Boards as well as other brands. Pick boards are also called aluminum planks. They are used in a large variety of construction applications where a long work platform is needed. These boards come in lengths from 8' to 24' long and widths of 12 inches to 24 inches wide. Most of them have a 500 lbs weight rating although some are designed to carry 250 lbs.
Pick boards are most commonly used with pump jack scaffolding, which is a specialty scaffolding platform used by painters and siding contractors. The pump jacks use a foot pedal to climb two aluminum poles. The pick boards are placed on the jacks and span the poles. This platform can be easily raised up and down the poles to the height desired by the contractor.
Pick boards are also used in scaffolding applications where you need to span across an area without underlying support. For instance, if you are working above a large doorway, you can use pick boards to span across scaffolding towers on each side of the door.
These boards are made of aluminum so they are relatively light considering their size. They have a walking platform that has a lot of traction even when wet to increase safety.
SHOP OUR INVENTORY OF WERNER PICK BOARDS
Recent Posts
Industrial Ladders for Sale in Dallas, TexasIndustrial ladders are held to a higher safety requireme …

Pick Boards Supplier in Dallas, TexasAt Dallas Ladder, we have a very large inventory of Werner …